"HAVE YOU GONE MAD? ARE YOU A WITCH OR NOT?"
-- Ron Weasley to Hermione, who has forgotten to use magic (PS16)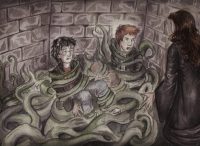 When they drop through the trapdoor, they all land in the Snare, which starts to entangle them. Hermione wriggles free, then, remembering what Sprout taught them about Devil's Snare in Herbology class, uses her Bluebell flames spell to break the boys free.
Harry and Ron are rescued from Devil's Snare by Hermione
Certainty
Date based on real world calendar
Type of Event
Wizarding world
Commentary
Notes
This passage is simply a delight, a classic example of why readers love Rowling's writing:
"Devil's Snare, Devil's Snare... what did Professor Sprout say? -- it likes the dark and the damp..."

"So light a fire!" Harry choked.

"Yes -- of course -- but there's no wood!" Hermione cried, wringing her hands.

"HAVE YOU GONE MAD?" Ron bellowed. "ARE YOU A WITCH OR NOT?"

"Oh, right!" said Hermione, and she whipped out her wand, waved it, muttered something, and sent a jet of the same bluebell flames she had used on Snape at the plant. In a matter of seconds, the two boys felt it loosening its grip as it cringed away from the light and warmth. Wriggling and flailing, it unraveled itself from their bodies, and they were able to pull free.

"Lucky you pay attention in Herbology, Hermione," said Harry as he joined her by the wall, wiping sweat off his face.

"Yeah," said Ron, "and lucky Harry doesn't lose his head in a crisis -- 'there's no wood,' honestly."
Pensieve (Comments)
Tags: desperation escapes rescue/rescues