"So light a fire!"
"Yes -- of course -- but there's no wood!"
"HAVE YOU GONE MAD?... ARE YOU A WITCH OR NOT?"
-- Harry, Hermione, and Ron (PS16)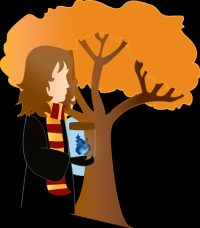 Bluebell Flames are created by an unknown incantation. The flames can be directed to a specific place or carried in a jar.
The incantation is unknown since Hermione merely waved her wand and "muttered something" (PS16).
Hermione cast a bluebell flame that could be carried around in a jam jar, sent out a short distance, then retrieved into the jar; she created flames to set Snape's robes on fire during the first Quidditch match of her first year (PS11). She used also this spell against Devil's Snare when working through the challenges surrounding the Philosopher's Stone (PS16).
Portable, waterproof fires are a specialty of Hermione's (CS11).
Commentary
Etymology
"bluebell" - a flower with blue blossoms
Notes
Bluebell flames are similar in nature to Professor Lupin's "hand held flames" in the train car when Dementors stopped the Hogwarts Express (PA5). However, his fire was not blue like bluebell flames, so we can't be sure what spell he used.
The fire in the Goblet of Fire may be this or something similar; it is described as blue and it sits in a wooden goblet without burning it (GF16). -BB
Pensieve (Comments)
Tags: blue fire flames Hermione Remembrall