"STUDENTS OUT OF BED DOWN THE CHARMS CORRIDOR!"
-- Peeves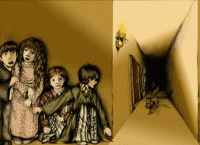 The Charms corridor, so-called because it is the location of Professor Flitwick's Charms Classroom, is located on the third floor of Hogwarts. The forbidden corridor which housed Fluffy in Harry's first year is nearby.
"Ducking under Peeves they ran for their lives, right to the end of the corridor, where they slammed into a door - and it was locked" (PS9).
"He followed Cedric at a distance, and saw that he was heading towards the Charms corridors" (GF20).
Commentary