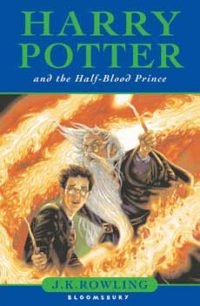 Harry Potter and the Half-Blood Prince, the sixth book in the series.
The book marked a turning point in the series for fans. Rowling shifted her writing toward revealing the answers to all the many mysteries she had built up over the earlier five books. She considers books six and seven, Harry Potter and the Deathly Hallows, as almost two parts of the same book, as Harry learns what it will take to destroy Voldemort and sets out on his extended quest to do so.
Published in the UK and US on 16 July 2005.
Resources:
Chapters
HBP1 – The Other Minister
HBP2 – Spinner's End
HBP3 – Will and Won't
HBP4 – Horace Slughorn
HBP5 – An Excess of Phlegm
HBP6 – Draco's Detour
HBP7 – The Slug Club
HBP8 – Snape Victorious
HBP9 – The Half-Blood Prince
HBP10 – The Hour of Gaunt
HBP11 – Hermione's Helping Hand
HBP12 – Silver & Opals
HBP13 – The Secret Riddle
HBP14 – Felix Felicis
HBP15 – The Unbreakable Vow
HBP16 – A Very Frosty Christmas
HBP17 – A Sluggish Memory
HBP18 – Birthday Surprises
HBP19 – Elf Tails
HBP20 – Lord Voldemort's Request
HBP21 – The Unknowable Room
HBP22 – After the Burial
HBP23 – Horcruxes
HBP24 – Sectumsempra
HBP25 – The Seer Overheard
HBP26 – The Cave
HBP27 – The Lightning-Struck Tower
HBP28 – Flight of the Prince
HBP29 – The Phoenix Lament
HBP30 – The White Tomb
Dedication
To Mackenzie,
my beautiful daughter,
I dedicate
her ink-and-paper twin.
Interesting facts and notes
When Rowling first put the title on her website it was written "Half Blood" Prince. Soon afterward she changed the title on her site to the more grammatically correct "Half-Blood" Prince, which is how it was published.
Characters Introduced
Commentary