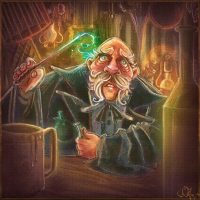 Harry visits Hagrid with Slughorn, where the three hold a burial for Aragog. Slughorn and Hagrid drink to honor the deceased Acromantula, and when Hagrid falls asleep, Harry talks with Slughorn about his and Dumbledore's efforts to reveal Voldemort's past. Slughorn had refused to share his own memory of telling Tom Marvolo Riddle about Horcruxes, but Harry appeals to Slughorn's affection for Lily and asks him to be as brave as she was and not let her death be in vain. Slughorn agrees and gives up the memory.
Harry races to Dumbledore's study at midnight and together they watch the full memory (HBP23).
Timeline Notes
We know this happens on April 21 because Apparition tests were the same day, and the sign posted in the Gryffindor common room in HBP21 specified the date. This works well with our calendar, too; the 21st is a Monday, we already know from HBP9 that Harry has Potions on Mondays, and most of his lessons with Dumbledore have happened on Mondays as well.
Slughorn finally gives up his memory to Harry, thanks to Felix Felicis
Date
Late April 21st, 1997
Certainty
Stated in canon
Type of Event
Wizarding world
Commentary