"And then on the summer outing — we take them out, you know, once a year, to the countryside or to the seaside — well, Amy Benson and Dennis Bishop were never quite right afterwards, and all we ever got out of them was that they'd gone into a cave with Tom Riddle. He swore they'd just gone exploring, but something happened in there, I'm sure of it."
-- Mrs. Cole, speaking in Dumbledore's memory (HBP13)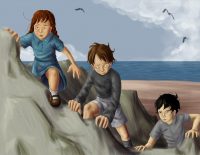 On a summer visit to the seashore with the children from the orphanage, Tom Riddle coerces two of the other kids, Amy Benson and Dennis Bishop, to go with him into a cave. The two other children, according to Mrs. Cole, were never the same after. Tom said only that they'd gone exploring.
Timeline Notes
Tom Riddle was three years old at the beginning of the 1930s, so it's safe to assume his terrorizing of two children on a trip to the seashore didn't happen before then. He left for Hogwarts in 1938, so the incident with the sea cave would have occurred between about 1935 and 1938, most likely in the summer of 1937 when he was ten.
Tom Riddle terrorizes two children in the sea cave
Certainty
Reasonable guess
Type of Event
Muggle world
Commentary