"Yeah, Quirrell was a great teacher," said Harry loudly, "there was just that minor drawback of him having Lord Voldemort sticking out of the back of his head." -- Harry Potter (OP15)
OP
15 — The Hogwarts High Inquisitor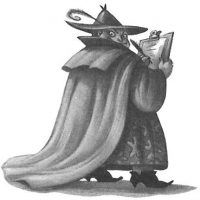 Umbridge is made Hogwarts High Inquisitor, and Harry loses his temper again in Defense Against the Dark Arts, serving another week's detention. Umbridge observes the professors in class, and Ron and Hermione try to convince Harry to give Defence Against the Dark Arts lessons.
Calendar and Dates
The chapter begins at breakfast on Monday morning, the second week of classes. It then covers Harry's classes for Monday and Tuesday, and ends with Hermione asking Harry to teach Defense in the Gryffindor Common Room, Tuesday night. Since the first week of classes began on 2 September, these two days must be the 9th and 10th.
Interesting facts and notes
Still to come.
Exceptional character moments
Still to come.
Memorable lines
"T?" asked Hermione, looking appalled. "Even lower than a D? What on earth does that stand for?" "Troll," said George promptly. Harry laughed again, though he was not sure whether or not George was joking. He imagined trying to conceal from Hermione that he had received T's in all his O.W.L.s and immediately resolved to work harder from now on.
"Yeah, Quirrell was a great teacher," said Harry loudly, "there was just that minor drawback of him having Lord Voldemort sticking out of the back of his head."
Other Canon Notes
Albus Dumbledore cited as once Supreme Mugwump of the International Confederation of Wizards and Chief Warlock of the Wizengamot
Commentary
Pensieve (Comments)
Tags: anger anxiety black bleeding blood cold controversy cut dark detentions diary dreams failure fraud furious impressing laws lessons letters newspaper old photographs powers predictions scar silence silver success temper white wishes yellow