'Angelina Johnson of Gryffindor - what an excellent Chaser that girl is, and rather attractive too.'
- Lee Jordan (PS11)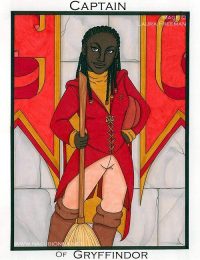 Angelina Johnson, described as a tall black girl (GF16), is a Gryffindor (1989-1996). She is an excellent Quidditch player (a Chaser) (PS11) and was captain of the Gryffindor Quidditch Team (1995-1996)(OP12).
She put her name in for the Triwizard Tournament but wasn't chosen (GF16), and went to the Yule Ball with Fred Weasley (GF22, GF23). Angelina became Quidditch captain in 1995 (OP12), which stressed her out and gave her something of a mean streak (OP13). She was a member of Dumbledore's Army (OP16). Her birthday is in the week before Halloween (GF16).
Later in life, Angelina married George Weasley and had two children, Fred and Roxanne (YL).
Skills
She is a skilled Quidditch player, being Chaser for the Gryffindor Quidditch team for at least four years (not including 1994-95) and was made captain in her seventh year.
Angelina Johnson
Hair
Long and braided (OP14)
Distinguishing Features
Tall (GF16)
School
Hogwarts - Gryffindor Hogwarts - Student
Commentary
Notes
Angelina Johnson was played by Danielle Tabor in the first three films, who was replaced by Tiana Benjamin for Goblet of Fire. She did not appear in any of the last four films.
Pensieve (Comments)