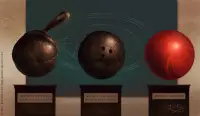 A round red seamless leather ball, 12 inches in diameter – that is, about the size of a Muggle football – one of the four balls used in playing the game of Quidditch.
Notes and interesting facts:
It is against the rules for Quidditch players to attack the opposing Keeper unless the Quaffle is inside the scoring area. Gryffindor were awarded a penalty during the Gryffindor v Slytherin game after Slytherin Beaters Bole and Derrick fouled Oliver Wood doing just that (PA15).
A Chudley Cannons Chaser, Dragomir Gorgovitch, holds the record for having made the most Quaffle drops during a Quidditch season (DH7).
An Irish team from Cork playing in Lancashire against a local team in 1385 was chased out of town for knowing how to do new "tricks with the Quaffle" that had never been seen before (QA8).
Commentary
Tags: balls competitions/competitors floating goals red round score throwing