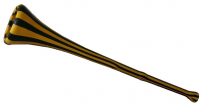 Dissimulators are noisy, multicoloured, tube-shaped instruments which make loud shouts of support and give off smoke in national colours (QWC).
When wands were banned at the 1974 Quidditch World Cup, canny wizard Quidditch fans transfigured their wands into Dissimulators. When Royston Idlewind, who introduced the ban, appeared at the event, the Dissimulators were turned back into wands again (QWC).
Commentary
Notes
The dissimulators are a magical form of vuvuzela, brightly coloured plastic horns played at South African football matches. Much of the world found them amusing - but also loud and irritating - during the 2010 FIFA World Cup (Wikipedia).
Lexicon timeline of Quidditch
Lexicon list of World Quidditch teams
From the Web
Writing by J K Rowling on Imgur (Daily Prophet coverage of the 2014 Quidditch World Cup, originally from Pottermore):
Harry Potter Wiki:
Pensieve (Comments)
Tags: annoying hidden instruments loud music noisy Quidditch history smoke smoke rings