"I'm Keeper for Gryffindor. I have to fly around our hoops and stop the other team from scoring."
-- Oliver Wood explaining Quidditch to Harry Potter (PS10)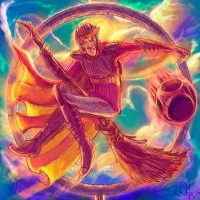 Quidditch player who guards the goal hoops and tries to prevent the opposing team's Chasers from scoring by passing the Quaffle through one of the hoops. There is one Keeper per team.
---
Before the scoring areas were introduced, Keepers were able to move around the pitch - and score themselves (QA6).
In 1884 the "Stooging Penalty" was added to the game of Quidditch. This prohibited more than one Chaser entering the scoring area and "flattening" the Keeper (QA6).
Keeper moves and tactics include the Double-Eight Loop and Starfish with Stick (QA10).
Notes and interesting facts:
Amongst the 700 fouls committed at the first Quidditch World Cup in 1473 was the attempted decapitation of the Keeper (QA8).
A French play from the 1400s "Hélas, Je me suis Transfiguré Les Pieds" (English translation: Alas, I've Transfigured My Feet) featured a character who chose to play Keeper over taking a cow to market (QA8).
Commentary
Tags: competitions/competitors goals match Quidditch history recreation save/saving/saved skills sports team teammates