"As Mullet shot toward the goal posts yet again, clutching the Quaffle tightly under her arm, the Bulgarian Keeper, Zograf, flew out to meet her."
-- Bulgaria v Ireland, Quidditch World Cup, 25 August 1994 (GF8)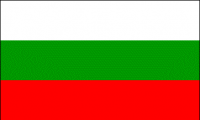 Quidditch player, Keeper for the Bulgarian National Team (1994).
Zograf was the Keeper for the Bulgarian side that lost to the Irish team in the final match of the 1994 Quidditch World Cup. He was penalised for the foul of cobbing when Irish Chaser Moran was attempting to score (GF8).
The other members of the 1994 team were:
The 1994 tournament was overshadowed by the chaos in the campground and appearance of the Dark Mark after the match (GF9, Pm).
Zograf
Profession
Quidditch player (Keeper)
Commentary
Etymology
Zograf may be a reference to the Zograf Monastery, a Bulgarian monastery on Mount Athos in Greece. The monastery contains the icon of Saint George the Zograf and also the Zograf Codex, a Gospel originating from there (Wikipedia).
Pensieve (Comments)
Tags: competitions/competitors defeat defeats fouls international losers loss match Quidditch history red scarlet sports teammates teams tournaments