"Every time Muggles have got anywhere near here all year, they've suddenly remembered urgent appointments and had to dash away...bless them."
-- Arthur Weasley (GF8)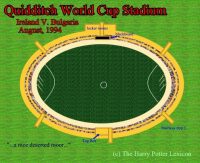 A Quidditch World Cup stadium needs to be able to cope with the sheer numbers of wizards attending a Quidditch World Cup, and requires the building and magical maintenance of a huge Quidditch stadium.
1809 Quidditch World Cup
The 1809 tournament took place in a stadium built on the West Siberian Plain of Russia. the Quidditch was overshadowed by the "Attack of the Killer Forest" during the final match (QWC).
1877 Quidditch World Cup (and the 1878 Quidditch World Cup)
Referred to as the "Tournament that Nobody Remembers", this Quidditch World Cup may have taken place in Ryn desert in Kazakhstan, as scheduled in 1877. The stadium would likely have stayed in place for the re-staged tournament the following year (QWC).
1994 Quidditch World Cup
The Ministry of Magic spent a year magically constructing a huge stadium on Dartmoor for the Quidditch World Cup final in August 1994 (QWC). The other knock-out matches for the 1994 tournament would have also used this stadium.
The stadium was approached through a wood, a twenty-minute walk along a lantern-lit trail. It had immense gold walls, suffused with a mysterious golden light which seems to come from the stadium itself, and with Muggle-Repelling Charms on every inch of it. The stadium was huge — Harry thought that ten cathedrals would fit comfortably inside it — and it seated 100,000 people. A Ministry task force of 500 worked on it for a year (GF8).
Inside, a giant blackboard opposite Top Box was the scoreboard and also showed advertisements. The fans received velvet-covered, tasselled programs when they showed their large parchment tickets. The Top Box provided the prime seats: about 20 purple and gilt chairs (GF8).
Travel to the stadium, which was located on Dartmoor, a "nice, deserted moor" (GF6), was quite a logistical feat. The Ministry had to stagger the arrivals: people with cheap tickets had to arrive two weeks early. A few used Muggle transport to get there, but most used Portkeys or Apparated. To accommodate the throng, two hundred Portkeys were placed around Britain, timed to bring people in on a schedule. Portkeys were also distributed to other countries.
2014 Quidditch World Cup
This stadium was located in the Patagonian desert of Argentina. The tournament took place between 13 April and 11 July 2014 (QWC).
Commentary
Notes
Related images:
For the other known Quidditch World Cup tournaments, the information on the location of the stadium (or whether there was even a stadium for the first one) is not provided:
The Quidditch World Cup in 1473 - the first Quidditch World Cup - took place in Britain, Ireland or Europe, as other countries were not yet participating (PS11, QA6, QA8, QA10, QWC).
A tournament took place somewhere in Britain between 1798 and 1811 - probably in 1805, while Artemisia Lufkin was Minister for Magic (MoM).
While winners and final scores of the tournaments held in 1966, 1974, 1982, 1990, 1998, 2002, 2006 and 2010 are given in J K Rowling's essay on the History of the Quidditch World Cup, no location is specified (QWC).
Lexicon timeline of Quidditch
Lexicon list of World Quidditch teams
From the Web
Writing by J K Rowling on Imgur (Daily Prophet coverage of the 2014 Quidditch World Cup, originally from Pottermore):
Harry Potter Wiki: Quidditch World Cup
WizardingWorld (Pottermore) features:
Pensieve (Comments)
Tags: competitions/competitors international pitch Quidditch history rivalry sports travel