"There were seven hundred ways of committing a Quidditch foul and that all of them had happened during a World Cup match in 1473."
-- from the Hogwarts library book "Quidditch Through the Ages" (PS11)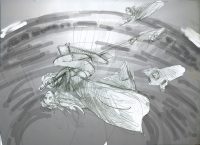 The Quidditch World Cup 1473 was the first Quidditch World Cup game to be played. It has gone down in history as one of the most violent of all time, as it involved every one of the 700 ways to commit a Quidditch foul. The final match pitted Transylvania against Flanders (QA6, QWC).
Timeline Notes
Quidditch World Cup tournaments take place over several months, with the final match falling in July (as in 2014, QWC) or August (as in 1994, GF8). However, the first World Cup matches may very well not have followed this modern schedule.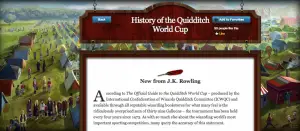 First Quidditch World Cup (1473)
Certainty
Stated in canon
Type of Event
Wizarding world
Commentary
From the Web
Writing by J K Rowling on Imgur (Daily Prophet coverage of the 2014 Quidditch World Cup, originally from Pottermore):
Harry Potter Wiki: Quidditch World Cup
WizardingWorld.com (Pottermore) features:
Pensieve (Comments)
Tags: cheating competitions/competitors fouls innovation international Quidditch history teams tournaments violence violent Quidditch match