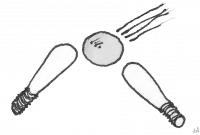 Enchanting the Beaters' bats makes the Bludgers, which in the 15th century are rocks cut into the shape of balls, even more dangerous. When smashed by the now-magical bats, the Bludgers become flying gravel that pursues the Quidditch players around the pitch (QA6).
Beater Bats are enchanted for the first time
Type of Event
Wizarding world
Commentary
Notes
The Beaters were probably thrilled to be using powerful magical bats, but you imagine that the other Quidditch players on the pitch might have some reservations about this development....
Related images:
Lexicon timeline of Quidditch
Lexicon lists of
From the Web
WizardingWorld (Pottermore) features:
Harry Potter Wiki: Quidditch
Pensieve (Comments)