"Take out the Seeker"
-- first rule in the book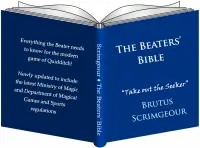 The Beaters' Bible is a Quidditch handbook written by Brutus Scrimgeour (QA).
Kennilworthy Whisp cited this book in Quidditch Through the Ages, and Scrimgeour in turn provided a favourable blurb for Whisp's book in the front section (QA). According to Whisp, the first rule in Scrimgeour's book is "Take out the Seeker" (QA6).
Commentary
Notes
Another essential book for your Quidditch team's Beater!
Related images:
Lexicon lists of:
Pensieve (Comments)