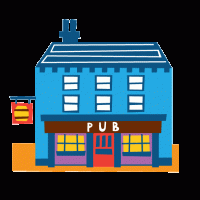 Daisy Dodderidge founded the Leaky Cauldron along what was then a country lane outside of London as a connection between the Muggle and Wizarding world. The back alley of the pub eventually became a magical gateway into Diagon Alley.
Over the centuries, the Leaky Cauldron became enfolded into the ever-expanding metropolitan area of London. By the mid-18th century, the pub was part of Greater London, along either Crown or Castle streets, which in 1877 were merged, widened, and modernized into Charing Cross Road.
Timeline Notes
Daisy Dodderidge was born in 1467 and died in 1555. We're approximating the founding of the Leaky Cauldron to be when she was about 40 years old, but the range of dates would be somewhere between 1490 and 1540.
The Leaky Cauldron pub is founded
Type of Event
Wizarding world
Commentary