LIECHTENSTEIN VERSUS CHAD
-- headlines, Daily Prophet, 19 May 2014 (QWC)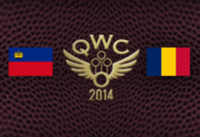 Liechtenstein emerged victorious on the third day of this marathon match against Chad by finally catching the Snitch (Chad having been 20 points ahead on Day 1 and Liechtenstein only ahead by 10 at the close of Day 2). The final score stood at Liechtenstein on 470 points and Chad on 330. The exhausted players from both teams embraced in tears after Liechtenstein Seeker Bruno Bruunhart's catch (QWC).
Timeline Notes
Article written by Ginny Weasley in the Sports section of the Daily Prophet, 19 May 2014 (QWC)
Quidditch World Cup Match (Liechtenstein v Chad) (Day 3)
Certainty
Stated in canon
Type of Event
Wizarding world
Commentary
From the Web
Writing by J K Rowling on WizardingWorld.com (Pottermore): The Daily Prophet
Writing by J K Rowling on Imgur (Daily Prophet coverage of the 2014 Quidditch World Cup, originally from Pottermore):
Harry Potter Wiki: 2014 Quidditch World Cup
Pensieve (Comments)
Tags: competitions/competitors endurance exhausted international match Quidditch history sleep teams three tired tournament