BRAZIL VERSUS WALES
-- headline, Daily Prophet, 4 June 2014 (QWC)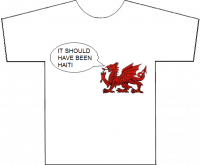 Welsh team manager Gwenog Jones exacted her revenge on Brazil's manager José Barboza in full view of a packed crowd of spectators after her team lost their quarter-final match to Brazil by 460 points to 300 (QWC).
The two managers have been feuding since Barboza had called her Chasers "talentless hags", a joke which he says was taken out of context by journalist Rita Skeeter. Healers were able to restore Barboza's face before the semi-finals (QWC).
Timeline Notes
Article written by Ginny Weasley in the Sports section of the Daily Prophet, 4 June 2014 (QWC)
Quidditch World Cup Quarter-final Match (Brazil v Wales)
Certainty
Stated in canon
Type of Event
Wizarding world
Commentary
Notes
Gwenog Jones was prevented from coming into the stadium wearing a 'IT SHOULD HAVE BEEN HAITI' t-shirt. Regulations about "manager trash talk" had been specially introduced for this Quidditch World Cup with Gwenog in mind (QWC).
Lexicon timeline of Quidditch
Lexicon list of World Quidditch teams
From the Web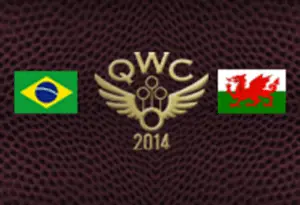 Writing by J K Rowling on WizardingWorld.com (Pottermore): The Daily Prophet
Writing by J K Rowling on Imgur (Daily Prophet coverage of the 2014 Quidditch World Cup, originally from Pottermore):
Harry Potter Wiki: 2014 Quidditch World Cup
Pensieve (Comments)
Tags: anger competitions/competitors dangerous Gwenog Jones remembrall injuries international match Quidditch history revenge teams temper tournament