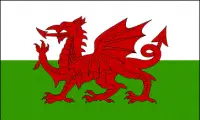 Wales is one of the four countries that comprises the United Kingdom of Great Britain and Northern Ireland. It has very beautiful scenery and is known for its mountains, seaside and castles.
Locations in Wales
Cardiff (Caerdydd)
Holyhead (Caergybi)
a riverbank, on which Harry, Ron, and Hermione camp (DH15)
Appearances
The Knight Bus was somewhere in Wales when Harry flagged it down (PA5).
The Welsh National Quidditch team was defeated by Uganda in 1994 (GF5) and was also a participant in the 2014 Quidditch World Cup tournament (Pm:Quidditch).
Wales fields two Quidditch teams in the British and Irish Quidditch League: the Holyhead Harpies and Caerphilly Catapults.
The Common Welsh Green dragon is also native to Wales (FB, PS14, GF19).
The famous singer, Celestina Warbeck, is from Wales and Remus Lupin's father Lyall met his wife Hope in a Welsh forest (Pm:Wizards).
The Daily Prophet received a letter complaining about their lack of coverage of a Welsh win at Gobstones (DP1).
Commentary
Notes
Although a constituent part of the UK, Wales (Cymru) has two official languages - Welsh (Cymraeg) and English (Saesneg). Therefore, most places in Wales have two names.
The Welsh flag is known for its distinctive red dragon (y ddraig goch) even though it is a green dragon variety that is known to come from Wales in the Wizarding World.
From the Web
Welsh Tourist Board: Visit Wales
Welsh Heritage (historical sites): CADW
Wikipedia: Wales
Pensieve (Comments)