"Seeker Eurig Cadwallader caught the Snitch eleven minutes after Pfeffer was stretchered off the field"
-- match report Wales v Germany, Daily Prophet, 22 May 2014 (Pm)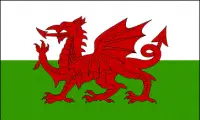 Eurig Cadwallader played Seeker for the Welsh National Team at the 2014 Quidditch World Cup.
Part of the Welsh team led by their controversial manager, Gwenog Jones, at the Quidditch World Cup 2014 tournament, Cadwallader was able to easily catch the Snitch after the German National Team's Seeker attempted too steep of a dive and crashed into the pitch (Pm).
Wales fell out of the tournament at the quarter-final stage, losing to Brazil by 460 points to 300 (Pm).
Skills
Quidditch
Other canon notes and references
Since Viktor Krum, born 1976, was the oldest player at the tournament (Pm), Cadwallader must have been born after 1976.
Eurig Cadwallader
Profession
Quidditch player (Seeker)
Commentary
Etymology
Eurig may derive from aur, the Welsh word for "gold" (Behind the Name).
Cadwallader, a spelling variation of Cadwaladr, is of ancient pre-7th century Welsh origin, derived from the name Cadgwaladr, meaning "battle leader". Famous people in Wales with this name include Cadwaladr ap Cadwallon, a King of Gwynedd (655-682), and Cadwaladr ap Gruffudd (1110-1172), the Prince of Cardigan (Internet Surname Database).
Notes
While a Chaser on the Hufflepuff House team shares this surname (HBP19), they could only be the same individual if he had changed his playing position from Chaser to Seeker (certainly possible as Ginny Weasley had been temporary Seeker before going back to Chasing for the Hogwarts Gryffindor team). He would also be a minimum of 32 years old if at Hogwarts at the same time as Harry - making Krum's 38 years less newsworthy. Surely the Daily Prophet would have made the comparison. Maybe Eurig is a younger brother or cousin? -BB/td
Pensieve (Comments)
Tags: athletes catching competitions/competitors failure international match sports teammates teams tournaments