"The viciousness of the Bludger sent his way by Welsh Beater Iefan Rice (the Quaffle was at the other end of the pitch at the time) earned Brazil a penalty"
-- match report Brazil v Wales, Daily Prophet, 4 June 2014 (Pm)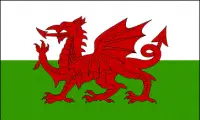 Iefan Rice was a Beater on the Welsh National Team at the 2014 Quidditch World Cup.
Along with fellow Beater Darren Floyd, the skills of the Welsh team during the Quidditch World Cup 2014 tournament, were outshone by the attention given to their controversial and volatile team manager, the former Holyhead Harpies captain Gwenog Jones (Pm).
They won their first match against Germany, but fell out of the tournament after losing to Brazil (460 points to 300) in a bad-tempered match, where Rice should have been sent off for a viciously hit Bludger at the Keeper (Pm).
Skills
Quidditch
Other canon notes and references
Since Viktor Krum, born 1976, was the oldest player at the tournament (Pm), Rice must have been born after 1976.
Iefan Rice
Profession
Quidditch player (Beater)
Commentary
Etymology
Iefan is one of the Welsh forms of the English name John, which comes from Greek Ιωαννης (Ioannes) and Hebrew יוֹחָנָן (Yochanan), and means "Yahweh is gracious" (Behind the Name).
Rice derives from the Welsh name Rhys, meaning "ardour" or "fiery warrior". The last ruler of the Kingdom of Deheubarth in Wales was Rhys ap Tewdwr (d.1093), an ancestor of the Tudor dynasty (Internet Surname Database).
Pensieve (Comments)
Tags: athletes competitions/competitors hitting international match sports strength teammates teams tournaments vicious