How The Tornados Are Taking Control
... the Tutshill Tornados [are] winning the Quidditch League by a combination of blackmail, illegal broom-tampering and torture ...
-- from a story in the Quibbler, September 1995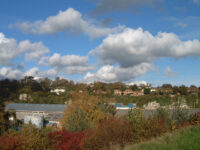 Tutshill is a small town in southeastern Wales, east of Newport. Tutshill is located in the Forest of Dean, on the banks of the River Wye.  It is the home of the Tutshill Tornados, a member of the British and Irish Quidditch League with a long history of success (QA7).
Commentary
Notes
Church Cottage in Tutshill was the childhood home of J.K. Rowling. She attended Tutshill Church of England Primary School. 
Since Cho was a Tornados fan, it's possible her family comes from this area of Britain.
The name of the town comes from the ruined "tut", a local term for watchtower, on top of the hill overlooking the Wye and its ancient crossing point at Castleford. (https://www.geograph.org.uk/photo/1954590)
From the Web
Tutshill on Wikipedia, part of the entry of which details Rowling's connection to the town.
Pensieve (Comments)
Tags: Quidditch traditions