"Pausing every few pages, he read: an accusation that the Tutshill Tornados were winning the Quidditch League by a combination of blackmail, illegal broom-tampering and torture...."
-- Harry Potter with Luna Lovegood's copy of The Quibbler (OP10)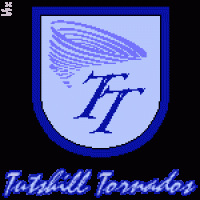 The Tutshill Tornados are an English Quidditch team from Tutshill in Gloucestershire near the Welsh Borders, founded in 1520 (QA7).
robes: sky-blue with a double "T" in dark blue on the chest and back
home: Tutshill
They have a "nine-hundred year history," according to the Daily Prophet, although the team was actually founded in 1520 (DP2).
The Tornados were having one of their most successful seasons in 1992-93, before losing a crucial game against the Ballycastle Bats (DP2).
They led the League in the fall of 1995 – something that The Quibbler felt was being achieved by illegal means (OP10).
Team members
Brevis Birch, Captain (c.1990s) (DP2).
Mervyn Fenwick, Keeper (c.1990s) (DP2).
Roderick Plumpton, Seeker (c.1920s) – he holds the record for the fastest capture of a Snitch from a 1921 game against the Caerphilly Catapults (QA7).
Fans
Cho Chang has been a Tornados fan since she was six years old (OP12).
Grogan Stump, Minister for Magic from 1811-1819 who established Department of Magical Games and Sports, was a passionate Tutshill Tornados fan (Pm).
Commentary
Notes
Tutshill, the location of one of J K Rowling's childhood homes, is a small village in Tidenham parish in the Forest of Dean on the Welsh borders. Its Wikipedia entry has a section on Rowling and Harry Potter connections, but no local sports teams are listed (Wikipedia).
Although the dates printed on the Daily Prophet Newsletters are:
the timeframe for these events is 1992-1993.
Pensieve (Comments)
Tags: blackmail blue capture competitions/competitors league table match Quidditch history record sky successful teams torture