"Pausing every few pages, he read: an accusation that the Tutshill Tornados were winning the Quidditch League by a combination of blackmail, illegal broom-tampering and torture...."
-- Harry Potter with Luna Lovegood's copy of The Quibbler (OP10)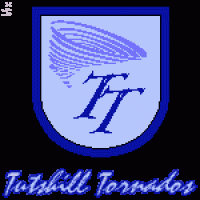 Quidditch team from Tutshill in Gloucestershire near the Welsh Borders, founded in 1520 (QA7)
robes: sky-blue with a double "T" in dark blue on the chest and back
home: Tutshill
They have a "nine-hundred year history," according to the Daily Prophet, although the team was actually founded in 1520 (DP2).
The Tornados were having one of their most successful seasons in 1992-93, before losing a crucial game against the Ballycastle Bats (DP2).
They led the League in the fall of 1995 - something that The Quibbler felt was being achieved by illegal means (OP10).
Team members:
Fans:
Commentary
Notes
Tutshill, the location of one of J K Rowling's childhood homes, is a small village in Tidenham parish in the Forest of Dean on the Welsh borders. Its Wikipedia entry has a section on Rowling and Harry Potter connections, but no local sports teams are listed (Wikipedia).
Although the dates printed on the Daily Prophet Newsletters are DP1: 31 July 1998, DP2: 8 February 1999, DP3: 1 June 1999 and DP4: 1 October 1999, the timeframe for those events is 1992-1993.
Pensieve (Comments)
Tags: blackmail blue capture competitions/competitors league table match Quidditch history record sky successful teams torture