"Brazil has won the Quidditch World Cup five times, but the nineties and early noughties were generally considered wilderness years for this once great side."
-- Ludo Bagman in the Daily Prophet, 2 July 2014 (Pm)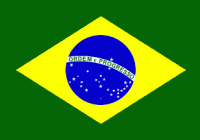 The Brazilian National Teams are from the South American country of Brazil.
Quidditch
The national team won the Quidditch World Cup five times prior to the 1990s (Pm), reaching the quarter-final stages of the tournament during the last century (QA8).
The team were runners-up in the 1982 Quidditch World Cup, their last time in a final match prior to 2014 (Pm).
A young Brazilian team came close to success in the 2014 Quidditch World Cup:
Commentary
Notes
Although there are a lot of sports being played and watched in Brazil, there are not any wizarding sports listed on their Wikipedia page (Wikipedia).
Pensieve (Comments)
Tags: brooms exciting green international skills speed sports talented teams