"Brazil has won the Quidditch World Cup five times, but the nineties and early noughties were generally considered wilderness years for this once great side."
-- Ludo Bagman in the Daily Prophet, 2 July 2014 (QWC)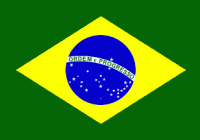 The Brazilian National Teams are from the South American country of Brazil.
Quidditch
The national team had won the Quidditch World Cup five times prior to the 1990s (QWC), reaching the quarter-final stages of the tournament during the last century (QA8).
The Brazilian team mascots are Curupiras (QWC).
Quidditch World Cup 1982
The team were runners-up in the Quidditch World Cup tournament of 1982, although we don't know who the winning team was that year. This was the Brazilians last time in a final match prior to 2014 (QWC).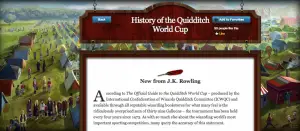 Quidditch World Cup 2014
A young Brazilian team flying Varåpidos brooms came close to success in the Quidditch World Cup that took place in Patagonia in 2014 (QWC).
Members of the 2014 team were Fernando Diaz, Alejandra Alonso and Gonçalo Flores (Chasers); Rafael Santos and Carlos Clodoaldo (Beaters); Raul Almeida (Keeper); and Tony Silva (Seeker). The team manager was José Barboza. The team mascots were Curupiras (QWC).
Their first match against Haiti was cut short at 100 points to 90, when the Haitians were disqualified after the illegal capture of the Snitch by Beater Jean-Baptiste Bloncourt (QWC).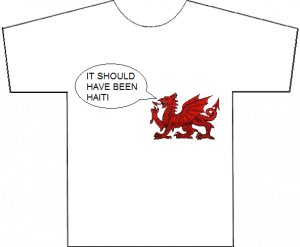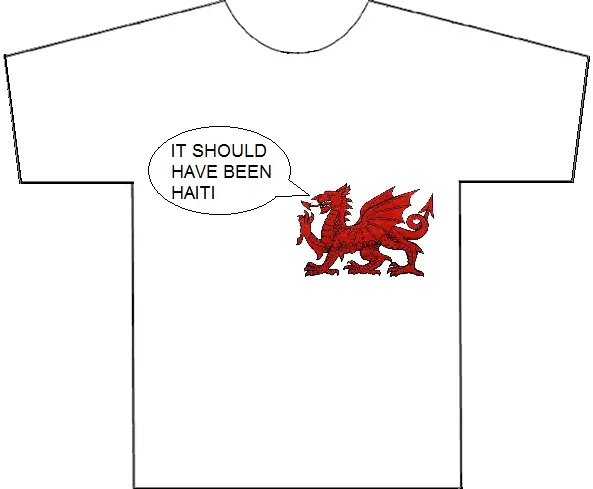 Their manager Barboza had made some unfortunate remarks about the Welsh side to the Daily Prophet's Rita Skeeter before the tournament began and was subsequently threatened by the Welsh team's manager, Gwenog Jones. Following their win over her team in the quarter-finals, Gwenog followed through on her threats. Fortunately, Barboza's face was healed in time for subsequent matches (QWC).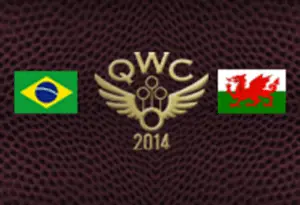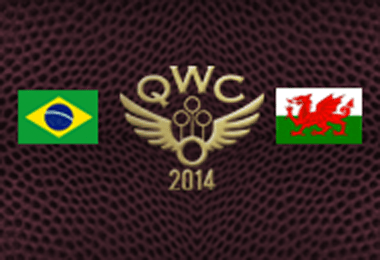 Their semi-final against the USA lasted for two days and featuring numerous pressure and fatigue-caused drops of the Quaffle and mis-hit Bludgers. Brazil won by 420 points to USA's 310 after a thrilling race by the two Seekers for the Snitch (QWC).
They ultimately lost to the Bulgaria by 170 points to 60 in an emotional match, which ended when veteran Seeker Viktor Krum caught the Snitch (QWC).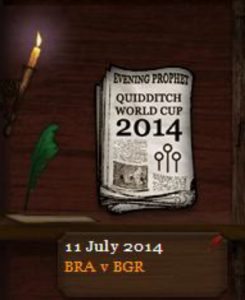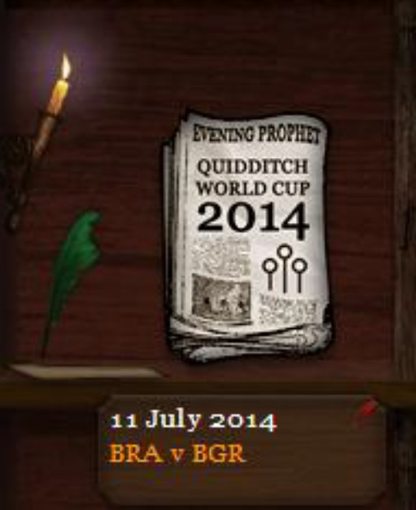 Commentary
Notes
Although there are a lot of sports being played and watched in Brazil, there are not any wizarding sports listed on their Wikipedia page (Wikipedia).
Related images:
Lexicon timeline of Quidditch
Lexicon list of World Quidditch teams
From the Web
Writing by J K Rowling on WizardingWorld.com (Pottermore): The Daily Prophet
Writing by J K Rowling on Imgur (Daily Prophet coverage of the 2014 Quidditch World Cup, originally from Pottermore):
WizardingWorld.com (Pottermore) features:
Harry Potter Wiki: Brazilian National Quidditch Team
Pensieve (Comments)
Tags: exciting green international skills speed sports talented teams