"Monday: Falmouth Falcons versus Pride of Portree, eleven o'clock, Exmoor. An Invisibility Charm has been put upon new stadium. Please collect Re-Visibility Spectacles from ticket office or you will not be able to find the pitch."
-- forthcoming Match Information published in the Daily Prophet (DP1)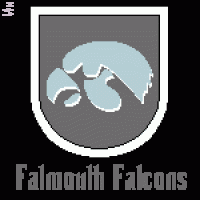 Quidditch team based in the Cornwall town of Falmouth (QA7).
robes: dark gray with white, falcon-head emblem on chest
home: Falmouth
motto: "Let us win, but if we cannot win, let us break a few heads."
They are known for hard play.
Famous (and violent) Beaters: brothers Kevin and Karl Broadmoor (1958-1969), who had a record fourteen suspensions (QA7).
Randolph Keitch and Basil Horton played for the Falcons in the early 1900s and later founded the Comet Trading Company and invented the Keitch-Horton Braking Charm (QA9).
Falcon fans and players were thrown into confusion by the introduction of Re-visibility spectacles at Exmoor for the match against Pride of Portree (DP2).
The Falcons were said to be "in danger of relegation" following a loss to the Chudley Cannons (DP4).
Commentary
Notes
Falmouth, a port town in Cornwall, has football team (Falmouth Town FC), a rugby union team (Falmouth RFC) and a cricket team (Falmouth CC) noted on its Wikipedia entry, but no Quidditch team (Wikipedia: Falmouth, Cornwall).
According to Unfogging the Future, the Falcon as a tea leaf symbol means "a deadly enemy" (PA6).
Although the dates printed on the Daily Prophet Newsletters are DP1: 31 July 1998, DP2: 8 February 1999, DP3: 1 June 1999 and DP4: 1 October 1999, the timeframe for those events is 1992-1993.
Pensieve (Comments)
Tags: competitions/competitors flying gray league table match ruthless teams violent white