"Monday: Falmouth Falcons versus Pride of Portree, eleven o'clock, Exmoor. An Invisibility Charm has been put upon new stadium. Please collect Re-Visibility Spectacles from ticket office or you will not be able to find the pitch."
-- forthcoming Match Information published in the Daily Prophet (DP1)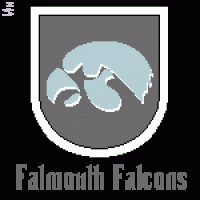 The Falmouth Falcons are an English Quidditch team based in the Cornwall town of Falmouth (QA7). They are known for hard play.
robes: dark gray with white, falcon-head emblem on chest
home: Falmouth
motto: "Let us win, but if we cannot win, let us break a few heads."
Famous (and violent) Beaters: brothers Kevin and Karl Broadmoor (1958-1969), who had a record fourteen suspensions (QA7).
Randolph Keitch and Basil Horton played for the Falcons in the early 1900s and later founded the Comet Trading Company and invented the Keitch-Horton Braking Charm (QA9).
Falcon fans and players were thrown into confusion by the introduction of Re-visibility spectacles at Exmoor for the match against Pride of Portree (DP2).
The team were said to be "in danger of relegation" following a loss to the Chudley Cannons (DP4).
Commentary
Notes
Falmouth, a port town in Cornwall, has football team (Falmouth Town FC), a rugby union team (Falmouth RFC) and a cricket team (Falmouth CC) noted on its Wikipedia entry, but no Quidditch team (Wikipedia).
According to Unfogging the Future, the Falcon as a tea leaf symbol means "a deadly enemy" (PA6).
Although the dates printed on the Daily Prophet Newsletters are:
the timeframe for these events is 1992-1993.
Pensieve (Comments)
Tags: competitions/competitors flying gray league table match ruthless teams violent white