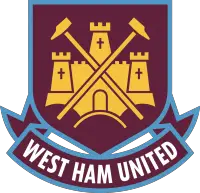 West Ham United is a Muggle football club, founded in 1895, and based in West Ham, East London.
Dean Thomas is a West Ham fan (PS9, PS11, OP11). Every year Dean pins a poster of the club up over his bed in the dormitory. This photo of the team baffles Ron Weasley, who in any case thinks Dean and his love of Muggle football are "mental", particularly as Ron had never seen a Muggle photograph before (where the figures are static and do not move). It is still the subject of comment even by their fourth year (GF12).
Commentary
Etymology
The original name of the West Ham team was Thames Ironworks FC, as it was formed by workers in a local factory. "Hamm" is an Old English name and means 'dry land between rivers or marshland'. There is also an East Ham.
Notes
West Ham is the only Muggle football team mentioned by name in the books. This is in honour of J K Rowling's friend Troy, who is a dedicated Hammers fan (JKR).
During the timeframe of the Harry Potter books (1991-1998), West Ham was in the Second Division for Harry's first year, before being promoted to the English Premier League in 1993 (Wikipedia).
The team and their supporters are called either the "Irons" or the "Hammers". With the move to the former 2012 Olympic Stadium in 2016, West Ham's logo changed from the one with a castle to a new version with only the crossed hammers.
Pensieve (Comments)