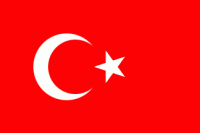 The Turkish National Teams come from the Eurasian country of Turkey. It is considered to be part of both Europe and Asia.
Quidditch
The Turkish team played against the English national side that included Ludo Bagman during the 1980s (GF30).
Commentary
Notes
Although Turkey has a Quidditch team, there are no wizarding sports teams mentioned on its Wikipedia pages (Wikipedia).
Pensieve (Comments)
Tags: competitions/competitors international sports teams tournaments