"May I also take this opportunity to wish Puddlemere United the best of luck next season."
-- Albus Dumbledore in "Quidditch through the Ages" (QA)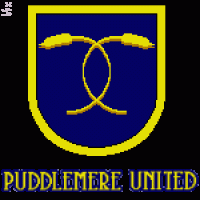 The first professional Quidditch team, founded in 1163 (QA7)
Robes: changed in the 1990s from mud brown (DP1) to the current blue with two crossed gold bulrushes
Home: Puddlemere
Team anthem: "Beat Back Those Bludgers, Boys, and Chuck That Quaffle Here" (QA7, Pm)
Manager: Philbert Deverill (c. 1990s) - he denied that they were investigating "chameleon cloaks" during an interview about a team image change (DP1, DP2).
Team members:
Fans:
The team anthem "Beat Back Those Bludgers, Boys, and Chuck That Quaffle Here" was recorded by the singing sorceress Celestina Warbeck to raise funds for St. Mungo's Hospital for Magical Maladies and Injuries (QA7).
A letter of complaint from Grugwyn Rufford was received by the Daily Prophet because they published a long article about Puddlemere United's new flying team bus (DP1).
For the match against the Wigtown Wanderers on the Yorkshire moors, fans were asked not to cheer too loudly, as Muggles had noticed (DP1).
In the library book Quidditch Through the Ages, the team's robe colour is stated to be navy-blue (QA7), but articles in the Daily Prophet state that the team will be changing from mud-brown to kingfisher blue robes (DP1, DP2).
Commentary
Notes
Puddlemere is in an unknown location.
Although the dates printed on the Daily Prophet Newsletters are DP1: 31 July 1998, DP2: 8 February 1999, DP3: 1 June 1999 and DP4: 1 October 1999, the timeframe for those events is 1992-1993.
Pensieve (Comments)
Tags: blue brown change chaos color change competitions/competitors disappear famous first flying league table match rivalry teams vanish/vanishing