"We have proved we don't need Wilda and are now going from strength to strength"
-- Gwenog Jones to the Daily Prophet (DP3)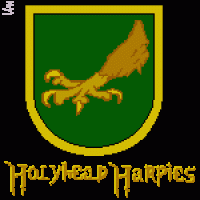 Brand New Harpy Saves the Day is an article about the Holyhead Harpies quidditch team appearing in the Sports section of the Daily Prophet (DP3).
This report records the views of Holyhead Harpies team captain Gwenog Jones, following the match during which the new Chaser for their team, Valmai Morgan, scored ten goals. Jones states that she is eagerly anticipating the match against Puddlemere United and former Chaser Wilda Griffiths (DP3).
The Holyhead Harpies team is regularly featured in the Daily Prophet and, as in this article, reports about or interviews with team captain Gwenog Jones are always good value for a headline (DP1, DP2, DP3, DP4).
Commentary
Notes
While the date printed on DP3 is 1 June 1999, the timeframe for these events is 1992-1993.
Pensieve (Comments)
Tags: goals Gwenog Jones remembrall match score strength win women