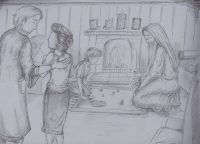 Give Gobstones A Second Glance is an advertising campaign run by the National Gobstone Association in an effort to recruit new Gobstones players.
It featured an unfortunate picture of Kevin Hopwood, the current World Champion of the game (Pm).
Commentary
Notes
It won't be easy to give the game of Gobstones a "second glance" if your first glance means something nasty could be squirted at you....
From the Web
Writing by J.K. Rowling on Pottermore: Gobstones
Pensieve (Comments)