"Quality brooms at low, low prices" (DP4)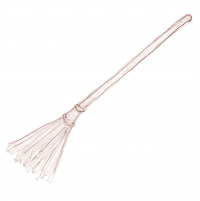 Buy Your Second-Hand Brooms at Splinter & Kreeks is an advertisement for brooms appearing in the Daily Prophet (DP4).
This advertisement offers the cost-conscious purchaser low pricing for secondhand brooms such as the Cleansweep Five, Comet 220 and Shooting Star (DP4).
Commentary
Notes
If a broomstick has "splinters" (tiny pieces coming off a tree or piece of wood) and also "kreeks" while flying (making strange noises), it is not likely to be a very high quality item in good condition!
Although the date printed on the fourth Daily Prophet Newsletter (DP4) is 1 October 1999, the timeframe for that event is 1992-1993.
Pensieve (Comments)
Tags: brooms / broomsticks cheap practical quality sale secondhand sensible used