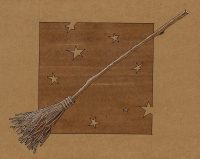 The Cleansweep Broom Company, started in 1926 by Bob, Bill and Barnaby Ollerton, produces a series of sport broomsticks. The Ollerton brothers produced large numbers of Cleansweeps aimed specifically at the racing and Quidditch markets. The Cleansweep series are known for their ability to turn corners quickly and efficiently. Models released by the company include: Cleansweep 1, Cleansweep 2, Cleansweep 3, Cleansweep 5, Cleansweep 6, Cleansweep 7 and Cleansweep 11 (QA9).
Commentary
Etymology
In popular use, a "clean sweep" is a complete win over the opposition - sweeping the board clean.
Notes
Although the date printed on these Daily Prophet Newsletters are: DP2: 8 February 1999 and DP4: 1 October 1999, the timeframe for events is 1992-1993.
Pensieve (Comments)
Tags: brooms broomsticks design fast flying improvement innovation popular racing racing brooms sports wood