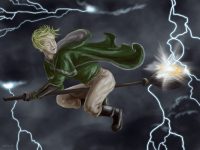 A deluxe model from the Nimbus Racing Broom Company that dominated the market in the late 20th century, outselling other racing brooms three-to-one (Pm).
In Harry's Second Year, the Slytherin Quidditch Team was outfitted with Nimbus 2001 racing brooms donated by Draco Malfoy's father, Lucius Malfoy (CS7).
The Nimbus 2001 was overshadowed by the invention of the Firebolt by Randolph Spudmore just twelve months later (Pm).
Commentary
Pensieve (Comments)