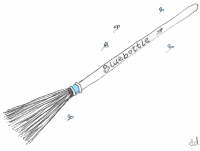 The Bluebottle is a type of broom, aimed at the general transport market rather than for sports or racing use (GF8).
It was advertised at the Quidditch World Cup final in 1994 on the blackboard. Marketed as a safe and reliable broom for families, it includes a built-in Anti-Burglar Buzzer (GF8).
Commentary
Etymology
A bluebottle is a species of flying insect, the "common blowfly", which has a metallic-blue body (Oxford English Dictionary).
Notes
As a fly, bluebottles are extremely annoying and persistent. The integral Anti-Burglar Buzzer is likely to be loud, annoying and persistent as well.
Lexicon list of Broom Manufacturers
From the Web
WizardingWorld.com (Pottermore) features:
Harry Potter Wiki: Brooms
Pensieve (Comments)