" ...the Nimbus combined the reliability of the old Oakshaft 79 with the easy handling of the best Cleansweeps."
-- Quidditch Through the Ages (QA9)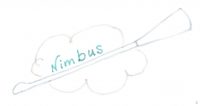 The Nimbus 1000 was a revolutionary racing broom invented in 1967 by the Nimbus Racing Broom Company (QA9).
Features:
Speeds of more than 100 miles per hour
360-degree turns in mid-air
Improved on the Oakshaft 79 and the Cleansweeps
Soon became popular with professional Quidditch teams in Europe (QA9).
Commentary
From the Web
Pottermore features:
Harry Potter Wiki:
Pensieve (Comments)
Tags: design fast flying racing brooms speed