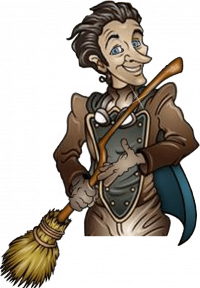 Devlin Whitehorn founded the Nimbus Racing Broom Company in 1967, revolutionising Quidditch with the speed and precision of his racing brooms (FW, QA9).
Devlin Whitehorn
Profession
Broomstick Manufacturer
Commentary
Etymology
Devlin is derived from the Irish surname Ó Doibhilin, meaning "descendant of Doibhilin", a given name possibly derived from dobhail ("unlucky") (Behind the Name).
Whitehorn derives from the Olde English place name hwit "white" with aern "a house". It can also come from an occupational name for a worker in horn - Olde English hwit "fair or splendid" and "horn", the material (Internet Surname Database).
Pensieve (Comments)