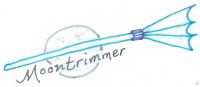 The Moontrimmer is a broom model created in 1901 by Gladys Boothby. It was a slender, ash-handled broom (QA9).
For its time it was the first to achieve record-breaking heights (at least, record-breaking while the flyer maintained control at such an altitude). Its maximum speed was less than seventy miles per hour (QA9).
Part of its popularity was due to the broom's rarity, as Ms Boothby was unable to manufacture enough to meet the demand from Quidditch players (QA9).
Commentary
Etymology
"moon-trimmer" is a reference to the broom's ability to achieve high flying.
From the Web
Pottermore features:
Harry Potter Wiki:
Pensieve (Comments)