"What we have here is a situation in which creatures weighing over a ton, with brains the size of a bogey, are being allowed to run riot."
-- Artemius Lawson (DP2)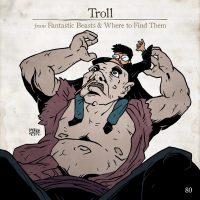 Troll Rights Movement Out of Control is an article on the front page of the Daily Prophet reporting the disruption of a meeting of campaigners for the suppression of trolls (DP2).
Spokeswitch for the Troll Rights Movement, Miss Heliotrope Willis, accompanied by troll bodyguards, invaded a anti-troll meeting being held by troll suppression activist Artemius Lawson. While Miss Willis was speaking she was knocked out by careless club-swinging by one of her own troll colleagues (DP2).
Commentary
Notes
The deluded Ms Willis says that trolls have an "essentially peace-loving nature"....
Although the date printed on the second Daily Prophet Newsletter (DP2) is 8 February 1999, the timeframe for this event is 1992-1993.
Pensieve (Comments)
Tags: club clubbing control defiance guards meeting rights riot security violence