"We're easily the most exciting team playing currently"
-- Gwenog Jones (DP1)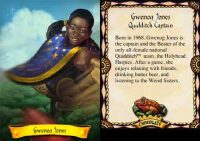 Article published in the Sports section of The Daily Prophet about the the Holyhead Harpies quidditch team (DP1).
The Daily Prophet reported that the Holyhead Harpies quidditch team, which always fields an all-witch team, is drawing new fans to every match. The Prophet interviewed Harpy team captain Gwenog Jones about the reasons for their popularity and obtained some very reluctant collaboration from Finbar Quigley, captain of the Ballycastle Bats (DP1).
No one dares disagree with Gwenog Jones, the brilliant but dangerous Captain and Beater of the all-witch Holyhead Harpies. This is the first of a series of articles in the Daily Prophet.
Commentary
Notes
While the date printed on DP1 is 31 July 1998, the timeframe for these events is 1992-1993.
Pensieve (Comments)
Tags: exciting fear Gwenog Jones remembrall rivalry talented team women