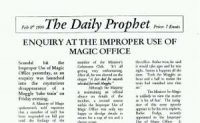 Headlines and articles from the Daily Prophet by date:
Historical
A series of articles about the disappearance of Violet Tillyman in the Floo Network (DL)
Bring Back Our Baskets! (12 February 1883) (QA6)
Our Chasers Aren't Cheating! (22 June 1884) (QA6)
An article by the chief sports writer about the Muggle sport of cricket, comparing it to Quidditch (1902) (DL)
1991-92
GRINGOTTS BREAK-IN LATEST (PS8)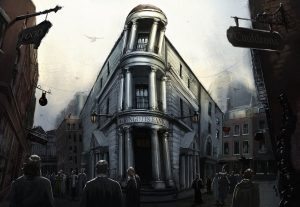 1992-93
FLYING FORD ANGLIA MYSTIFIES MUGGLES (CS5)
ENQUIRY AT THE MINISTRY OF MAGIC (CS12)
CANNONS GO DOWN IN A SHOWER OF ARROWS (DP1)
MAGPIE CHASER "ONLY TRIED FOOTBALL FOR A LAUGH" (DP1)
MUGGLES NOT AS STUPID AS WE THINK, SAYS MINISTRY REPORT (DP1)
Puddlemere United feature (DP1)
Holyhead Harpies Draw Record Crowd (DP1)
ENQUIRY AT THE IMPROPER USE OF MAGIC OFFICE (DP2)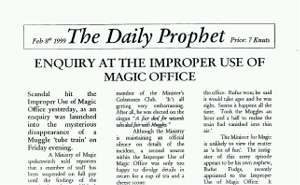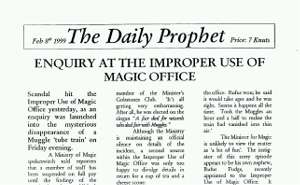 CELESTINA WARBECK CONCERT CAUSES BROOM SMASH OVER LIVERPOOL (DP2)
'TROLL RIGHTS MOVEMENT OUT OF CONTROL' (DP2)
WHY THE JOKE'S ON THE MINISTRY, NOT ON THE MUGGLES (DP2)
BATS SURVIVE THE TORNADOS (DP2)
Cannons Didn't Lose Shock (DP2)
Chaos Reigns on Exmoor for Falcons & Pride of Portree (DP2)
Maddock blamed for Kestrels' win (DP2)
GOBLIN RIOTS ERUPT IN CHIPPING CLODBURY (DP3)
Making sure the purchaser of your old wand is human (DP3)
Why can't goblins be more like elves? (DP3)
MUGGLEMANIAC MADDOCK MUST QUIT MAGPIES, SAYS MCLEOD (DP3)
SEEKERS JINXED AS PRIDE OF PORTREE FALL TO THE ARROWS (DP3)
BRAND NEW HARPY SAVES THE DAY (DP3)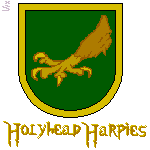 CHUDLEY CANNON WIN STUNS FANS (DP3)
MINISTRY IMPOSES RESTRICTIONS (DP4)
NEW POTION GIVES HOPE FOR HAGS (DP4)
PUDDLEMERE CHASER VANISHES AMID CHAOS AT HOLYHEAD MATCH (DP4)
CANNONS BLAST THE FALCONS (DP4)
1993-94
MINISTRY OF MAGIC EMPLOYEE SCOOPS GRAND PRIZE – including a photo of Arthur Weasley and family, and Ron's pet rat Scabbers in Egypt (PA1)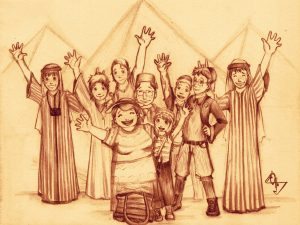 BLACK STILL AT LARGE (PA3)
1994-95
SCENES OF TERROR AT THE QUIDDITCH WORLD CUP (GF10)
FURTHER MISTAKES AT THE MINISTRY OF MAGIC (GF13)
An article by Rita Skeeter during the summer of 1994 about the International Confederation of Wizards' Conference, which Albus Dumbledore describes as "enchantingly nasty" (GF18)
A piece about the Triwizard Tournament by Rita Skeeter (GF19) – with the main focus being her "interview" of Harry Potter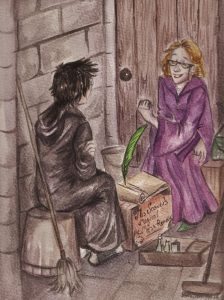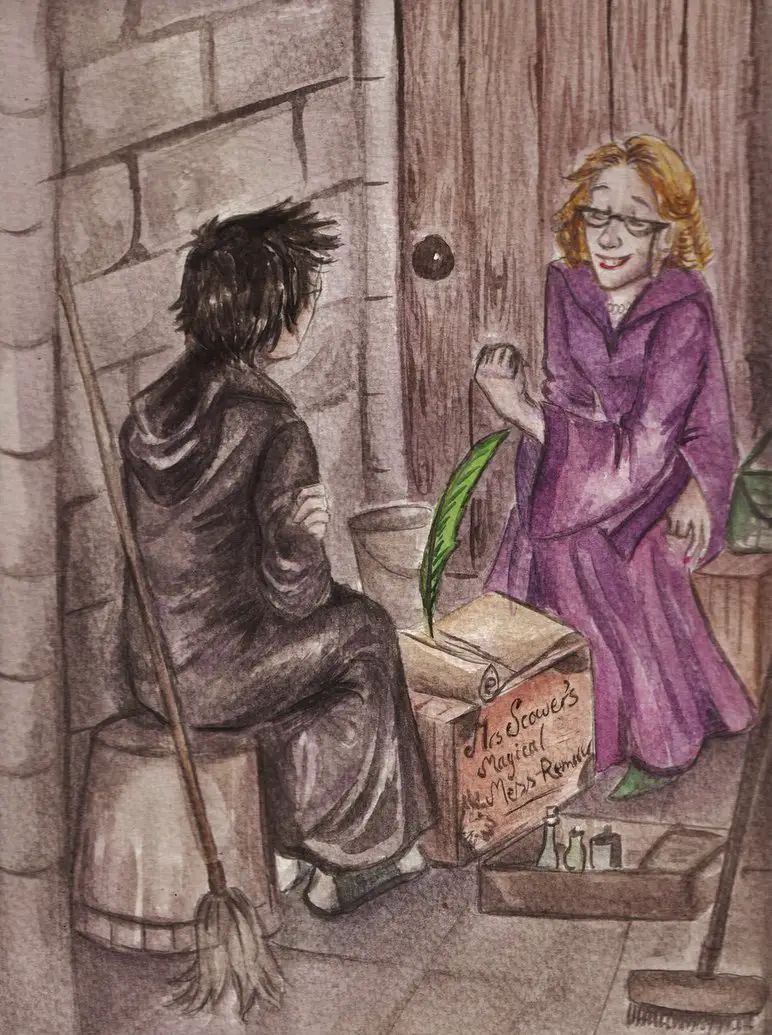 DUMBLEDORE'S GIANT MISTAKE (GF24)
Mystery Illness of Bartemius Crouch (GF27)
Ministry Witch Still Missing – Minister for Magic Now Personally Involved (GF27)
HARRY POTTER 'DISTURBED AND DANGEROUS' (GF31)
1995-96
Throughout the summer of 1995 a number of article about other topics in every issue have included references to Harry Potter's delusions and/or fantastical stories (OP4)
A report that Albus Dumbledore had been voted out as Chair of the International Confederation of Wizards (OP5)
TRESPASS AT MINISTRY (OP14)
MINISTRY SEEKS EDUCATIONAL REFORM
DOLORES UMBRIDGE APPOINTED FIRST EVER HIGH INQUISITOR (OP15)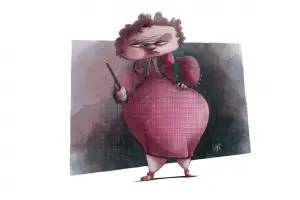 MASS BREAKOUT FROM AZKABAN
MINISTRY FEARS BLACK IS 'RALLYING POINT' FOR OLD DEATH EATERS (OP25)
TRAGIC DEMISE OF MINISTRY OF MAGIC WORKER (OP25)
HE-WHO-MUST-NOT-BE-NAMED RETURNS (OP38)
You-Know-Who's Last Attempt to Take Over (OP38)
What the Ministry Should Have Told Us (OP38)
Why Nobody Listened to Albus Dumbledore (OP38)
Exclusive Interview with Harry Potter – an article re-published from The Quibbler (OP38)
Articles about
"how to repel Dementors, attempts by the Ministry to track down Death Eaters and hysterical letters claiming that the writer had seen Lord Voldemort walking past their house that very morning" (OP38)
1996-97
HARRY POTTER: THE CHOSEN ONE? (HBP3)
SCRIMGEOUR SUCCEEDS FUDGE (HBP3)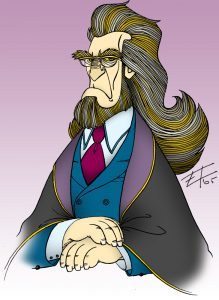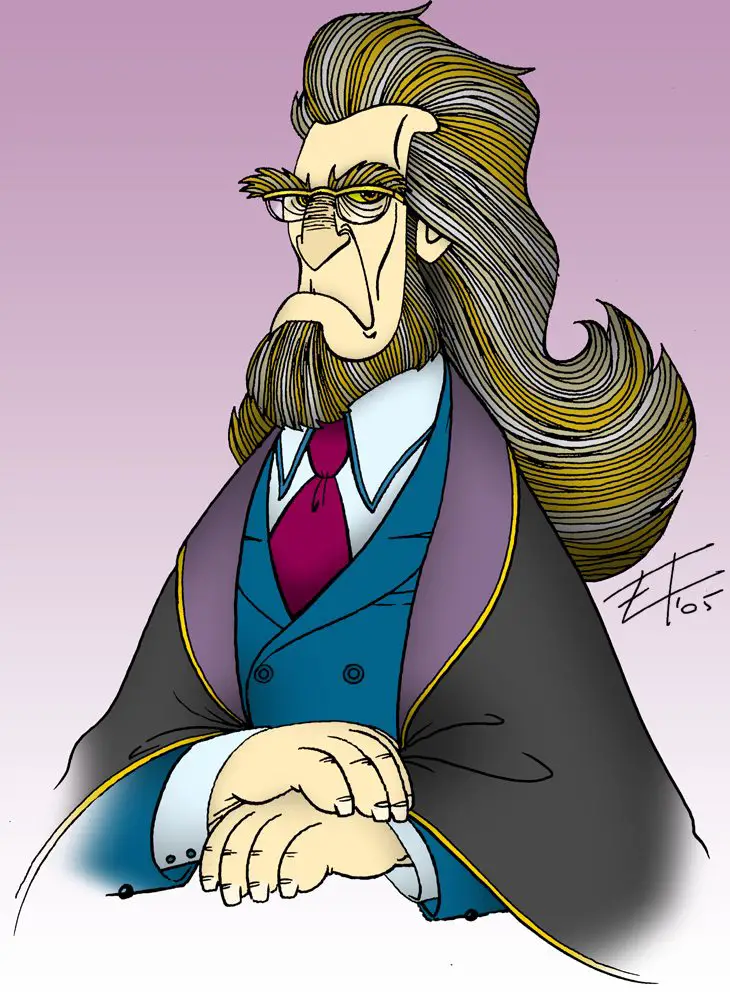 MINISTRY GUARANTEES STUDENTS' SAFETY (HP3)
Every day during the summer of 1996, stories of deaths, disappearances and accidents are published (HBP6)
A report about Stan Shunpike being arrested (HBP11)
An article in the Evening Prophet after Arthur Weasley raided Malfoy Manor (HBP11)
Further reports of disappearances (HBP18)
Reports about Mundungus Fletcher being arrested and sent to Azkaban; the disappearance of Octavius Pepper; and a nine-year-old boy arrested for trying to kill grandparents (HBP21)
A report of three Dementor attacks taking place in one week (HBP25)
A report in the Evening Prophet that the Ministry of Magic is still looking for Severus Snape (HBP30)
1997-98
At the beginning of summer 1997, an article in defence of Mudbloods by Charity Burbage, the Professor of Muggle Studies at Hogwarts (DH1)
Around a week later, a notice about the resignation of Charity Burbage from her post at Hogwarts (DH1)
ALBUS DUMBLEDORE REMEMBERED by Elphias Doge
DUMBLEDORE – THE TRUTH AT LAST? – front page headline about the new book by Rita Skeeter, with a picture of Albus Dumbledore (DH2)
A page 13 interview of Rita Skeeter by Betty Braithwaite (DH2)
WANTED FOR QUESTIONING ABOUT THE DEATH OF ALBUS DUMBLEDORE – front page headline with a photo of Harry Potter (DH11)
A page 2 article announcing creation of the "Muggle-born Register" and formation of the "Muggle-born Registration Commission" – shown by Remus Lupin to Harry, Ron and Hermione on August 2, 1997 (DH11)
EXCLUSIVE EXTRACT FROM THE UPCOMING BIOGRAPHY OF ALBUS DUMBLEDORE (DH11) – accompanied by a picture captioned "The Dumbledore family, left to right: Albus; Percival, holding newborn Ariana; Kendra; and Aberforth" – shown by Remus Lupin to Harry, Ron and Hermione on 2 August 1997 (DH11)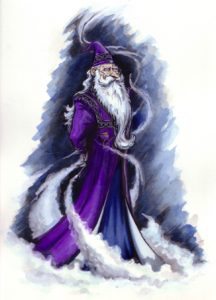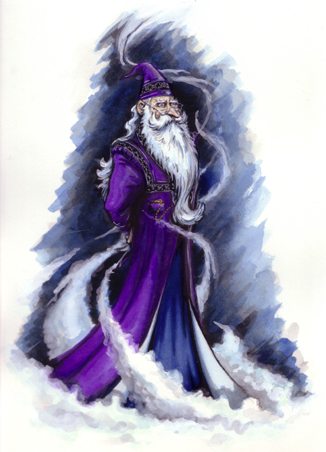 Albus Dumbledore at Hogwarts – the Prizes and the Pretence – feature promised for the following week at the end of the previous article (DH11)
SEVERUS SNAPE CONFIRMED AS HOGWARTS HEADMASTER – appeared in the 1 September 1997 edition, accompanied by a large picture of Severus Snape (DH12)
A list is published of Muggle-borns who failed to report to the Ministry for Interrogation (DH12)
2006
An article reporting which subject at Hogwarts parents had most complained about over the past 100 years (JKR-W2)
2014
DISASTROUS OPENING CEREMONY LEADS TO QUESTIONS ABOUT QUIDDITCH WORLD CUP SECURITY (Sport, 12 April 2014) – Daily Prophet article written by Ginny Weasley (QWC)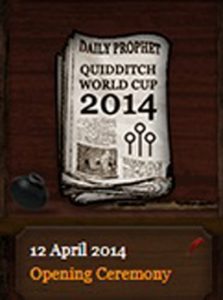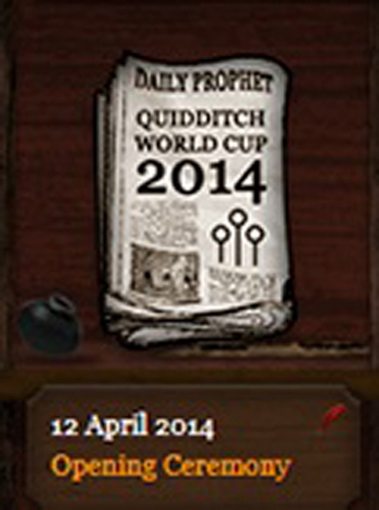 LATE BREAKING NEWS (Evening Prophet, Sport, 08 June 2014) article by Ginny Weasley – report of mascot theft (QWC)
BREAKING NEWS: RETURN OF HANS THE AUGUREY (Evening Prophet, Sport, 09 June 2014) article by Ginny Weasley (QWC)
PLACE YOUR BETS WITH LUDO BAGMAN (Sport, 02 July 2014) – feature on the remaining teams in the tournament and their chances, by Ludo Bagman (QWC)
DUMBLEDORE'S ARMY REUNITES AT QUIDDITCH WORLD CUP FINAL (Sport, 09 July 2014) – article by the Gossip Correspondent, Rita Skeeter (QWC)
Quidditch World Cup Match Reports (Quidditch World Cup essays), all Daily Prophet and written by Ginny Weasley unless noted otherwise:
NORWAY VERSUS IVORY COAST (Sunday Prophet, Sport, 13 April 2014)
NIGERIA VERSUS FIJI (Sport, 14 May 2014)
BRAZIL VERSUS HAITI (Sport, 15 May 2014)

USA VERSUS JAMAICA (Sport, 16 May 2014) – under investigation 

USA VERSUS JAMAICA (Evening Prophet, Sport, 16 May 2014) – result officially confirmed
LIECHTENSTEIN VERSUS CHAD (Sport, 17 May 2014) – ongoing
LIECHTENSTEIN VERSUS CHAD (Sunday Prophet, Sport, 18 May 2014) – ongoing
LIECHTENSTEIN VERSUS CHAD (Sport, 19 May 2014)
BULGARIA VERSUS NEW ZEALAND (Sport, 20 May 2014)
JAPAN VERSUS POLAND (Sport, 21 May 2014)
WALES VERSUS GERMANY (Sport, 22 May 2014)
BRAZIL VERSUS WALES (Sport, 04 June 2014)
BULGARIA VERSUS NORWAY (Sport, 06 June 2014)
USA VERSUS LIECHTENSTEIN (Sport, 08 June 2014)
JAPAN VERSUS NIGERIA (Sport, 10 June 2014)
USA VS BRAZIL (Sport, 04 July 2014) – ongoing
USA VS BRAZIL (Evening Prophet, Sport, 05 July 2014)
BULGARIA VS JAPAN (Sunday Prophet, Sport, 06 July 2014)
PLAY-OFF FOR THIRD PLACE (Sport, 09 July 2014) – report of the Japan v USA match
QUIDDITCH WORLD CUP FINAL (Evening Prophet, Sport, 11 July 2014) – transcript of the live coverage of the Bulgaria v Brazil match by both the Daily Prophet's Quidditch Correspondent (Ginny Weasley) and Gossip Correspondent (Rita Skeeter) (QWC)
2020
An emergency edition of the Daily Prophet was produced in September 2020 specifically to ask for volunteers to help search for the missing Albus Potter and Scorpius Malfoy (CC2).
Commentary
Notes
Although the dates printed on the Daily Prophet Newsletters are:
the timeframe for these events is 1992-1993.
Related images:
Pensieve (Comments)
Tags: article information journalism news newspaper publishing/publications writing