"The Grade 3 W.O.M.B.A.T. will test you on Magical History; the bodies and laws of the International Wizarding Community; Magical Theory, and Dark Magic."
-- J K Rowling's original website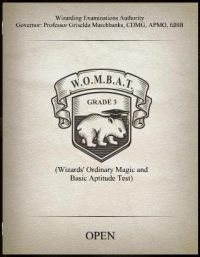 W.O.M.B.A.T. Test – Grade 3
W.O.M.B.A.T. stands for Wizards' Ordinary Magic and Basic Aptitude Test. It is administered by the Wizarding Examinations Authority.
The W.O.M.B.A.T. Test Grade 3 appeared behind the Door on Rowling's website on June 13, 2007 and ended 5 days later on June 18th.
The test consisted of questions which required an extensive knowledge of canon and an intuitive understanding of the Wizarding world to answer. A number of the questions required educated guesses, since sufficient information to answer them definitively was not available.
Characters Introduced
Alternate Title
WOMBAT Grade 3
Abbreviation
JKR-W3: WOMBAT Test 3
Canonicity
Secondary Canon
Commentary