"Antidotes!"
-- Professor Snape (GF18)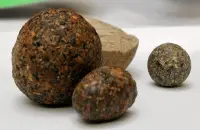 Antidotes in general reverse the effects of a poison or spell.
Ingredients
ingredients: vary, but often include mandrakes or a bezoar.
Preparation
various
References from the canon
Antidote for Swelling Solution is the Deflating Draught (CS11)
Fourth-year Potions studies antidotes; Snape hinted that he might poison a member of the class before Christmas to see if his or her antidote worked (GF15)
The Mandrake Draught is the antidote for Petrification
A bezoar will act as an antidote to most poisons (PS8). Ron consumed one during his sixth year (HBP19).
Snape had an antidote handy to restore Trevor the toad when he was turned into a tadpole with Shrinking Solution (PA7).
Mrs. Weasley had an antidote handy for Doxy bites when she and the children spent the morning de-Doxifying the draperies of the drawing room of number twelve, Grimmauld Place (OP6).
A sign on the wall of St. Mungo's Hospital said "A CLEAN CAULDRON KEEPS POTIONS FROM BECOMING POISONS and ANTIDOTES ARE ANTI-DON'TS UNLESS APPROVED BY A QUALIFIED HEALER" (OP22).
At least one antidote to counter the effects of Veritaserum exists (HBP17)
Slughorn supplied "a glass of clear liquid" as an antidote to the love potion Ron had accidentally eaten (HBP18)
Commentary
Etymology
from the Greek "antidoton" meaning "given as a remedy"
Pensieve (Comments)