" ... I have no further stocks of Veritaserum. Unless you wish to poison Potter -and I assure you I would have the greatest sympathy with you if you did - I cannot help you. The only trouble is that most venoms act too fast to give the victim much time for truth-telling"
-- Snape to Umbridge (OP32)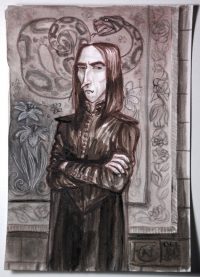 The most powerful Truth Serum available, this colorless, odorless potion (which looks like plain water) forces the drinker to tell the truth (HBP9).
References from the canon
Veritaserum
Magic Type
Magical effect
Commentary
Etymology
"veritas" L. truth
Notes
There are several Muggle versions of Veritaserum which have been used to varying effects to get at the truth, although the ethics are a little sketchy.
Alcohol is the age-old truth serum, as both Muggles and wizards say more than they should when tipsy, as both Hagrid and Mundungus Fletcher surely know. When Harry wanted to get Slughorn's true memory about young Tom Riddle and the Horcruxes, he waited till the professor had imbibed several rounds of drink before he tried to persuade him, and it worked probably better than Veritaserum.
Socium Pentathol is perhaps the best known Muggle truth-serum, made famous by countless spy stories and movies. It is a barbituate drug that works to overcome the will of a subject and make them more apt to spill their secrets. However, too much of it can kill, and what people say under the influence is not always admissible in a court of law. However, it is probably still used by spy agencies in many countries.
Finally, there is the lie-detector test or polygraph. This device uses sensors placed on the body to measure responses such as heart-rate to determine if lies are being told.  The results are also not admissible in courts because some results are inconclusive, and some people can actually control themselves enough to fool the machine (the Muggle version of Occlumency).  But it remains a useful tool as police use the polygraph to rule out innocent suspects, because when someone tells the truth they can usually pass easily.  (Maybe Harry should have tried that with Snape more often.)
Pensieve (Comments)
Tags: disguises fake injustice justice Mad-Eye Remembrall proof Snape Remembrall truth Umbridge Remembrall