"You'd do better ... to go straight to Slughorn's office and try and get that memory from him."
--Hermione Granger to Harry Potter (HBP21)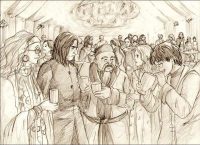 Horace Slughorn takes up the Potions job in Harry's sixth year. His office is described as being a very nice office, much larger than the usual teacher's study (HBP15). He holds an exclusive and very posh Christmas party there in December 1995 (HBP15).
Commentary
Notes
This passage in HBP18 suggests that Slughorn's office is located at least one floor below the Hospital Wing:
"I've been waiting for you to come back," said McLaggen, disregarding Harry's drawn wand. "Must've fallen asleep. Look, I saw them taking Weasley up to the hospital wing earlier. Didn't look like he'll be fit for next week's match."
Note that McClaggen says that Ron was brought "up to the hospital wing." In CS13, the hospital wing is found on the first floor, so if that were the case then Slughorn's fancy office would be located in the Dungeons. However, the Hospital Wing is one part of Hogwarts which doesn't seem to stay still. It's to be found on the second or third floor in OP23.
Pensieve (Comments)