"It's not Quidditch that's popular, it's you! You've never been more interesting and, frankly, you've never been more fanciable." -- Hermione Granger
HBP
11 — Hermione's Helping Hand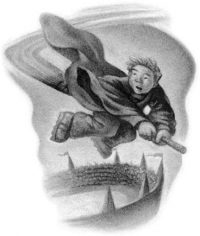 Harry discovers his newfound popularity, learns that Stan Shunpike has been arrested, and holds a frustratingly massive Quidditch tryout that includes a run-in with Cormac McLaggen. They visit Hagrid and learn that Aragog is dying, Harry confronts Hermione about having confunded McLaggen during the tryout, and Slughorn invites Harry and Hermione to supper, but Harry is spared having to go when Snape refuses to let him out of detention.
Calendar and Dates
After briefly touching on the second week of classes, the remainder of the chapter is devoted to the second Saturday of the term. Based on the dates of previous chapters (outlined in HBP08), this Saturday must be 14 September.
Exceptional character moments
Hermione confunds Cormac during Quidditch try-outs, so that Ron becomes the Gryffindor team's Keeper.
Memorable lines
"Oh, come on, Harry," said Hermione, suddenly impatient. "It's not Quidditch that's popular, it's you! You've never been more interesting, and frankly, you've never been more fanciable."
Hagrid looked stunned. "Since when have yeh called me 'sir'?"
"Since when have you called me 'Potter'?"
Words and phrases
Characters Introduced
Commentary
Pensieve (Comments)
Tags: confusion flying frustration popular professors requirements resentment sports