"Tryouts are on Friday at five o'clock and I want the whole team there, all right? Then we can see how the new person'll fit in."
-- Angelina Johnson to Harry (OP12)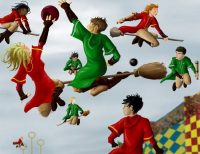 Also called "trials", Quidditch tryouts take place near the start of the Hogwarts school year for places on the House team. Tryouts are organised by the team captain, with the rest of team present. When a new captain takes over, he or she is encouraged to trial existing members of the team in case there is "somebody better".
Angelina Johnson, the new Gryffindor captain, held team tryouts for a new Keeper to replace Oliver Wood at the start of Harry's fifth year, with Ron Weasley finally chosen. Harry missed these due to serving a detention with Professor Umbridge (OP13).
When Harry became captain the following year, his popularity meant that too many students showed up for the tryouts, including ones who were not even from Gryffindor. At the end of the tryouts, the new members of the team were: Demelza Robins and Ginny Weasley (Chasers, joining Katie Bell), Jimmy Peakes and Ritchie Coote (Beaters) and Ron Weasley (staying as the Keeper) (HBP9).
Notes and interesting facts:
Commentary
Tags: best choices determination places practice skills sports teammates teams trials