"....and nobody would ever, ever let him forget that it had been he who had captained Gryffindor to their first bottom-of-the-table defeat in two centuries."
-- Harry Potter's thoughts prior to the Gryffindor v Ravenclaw match (HBP24)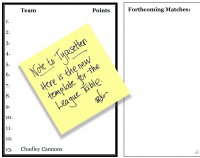 The position of last place in the standings, either at the end of a sports tournament/competition or at the end of the season in the league table.
When persuading him to do a last favour, Albus Dumbledore says to Severus Snape with complete certainty: "as surely as the Chudley Cannons will finish bottom of this year's league" (DH33).
Commentary
Notes
The term "bottom-of-the-league" can also be used to describe the team sitting in last place position at any time.
From the Web
Pottermore features:
Pensieve (Comments)
Tags: competitions/competitors defeats league table match results teams tournaments