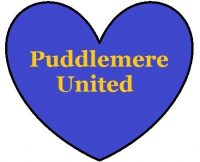 Beat Back Those Bludgers, Boys, and Chuck That Quaffle Here is the team anthem of Puddlemere United Quidditch team (QA7).
The Quidditch song was also recorded by Celestina Warbeck as a fund-raiser for St Mungo's Hospital (Pm).
Commentary
Notes
The song's title has a folksy Country & Western feel to it - and this may be one reason why Fleur Delacour thought listening to Celestina Warbeck's singing was particularly "'orrible" (HBP16).
Pensieve (Comments)