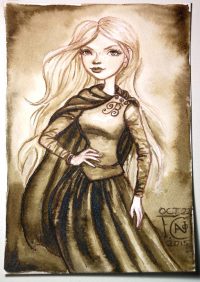 Fleur Isabelle Delacour is a talented part-Veela witch who was the Beauxbatons champion for the 1994-1995 Triwizard Tournament (GF16). She married Bill Weasley in August 1997.
Triwizard Tournament and Hogwarts
Initially, Fleur is a bit haughty and dismissive. She attended the Yule Ball of December 1994 with Roger Davies of Ravenclaw, criticizing Hogwarts for everything from its food to its decorations in a voice loud enough to be heard by everyone around (GF22, GF23). She was still somewhat critical almost two years later (HBP5).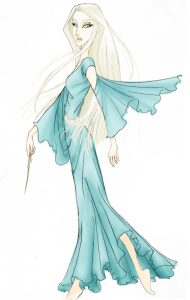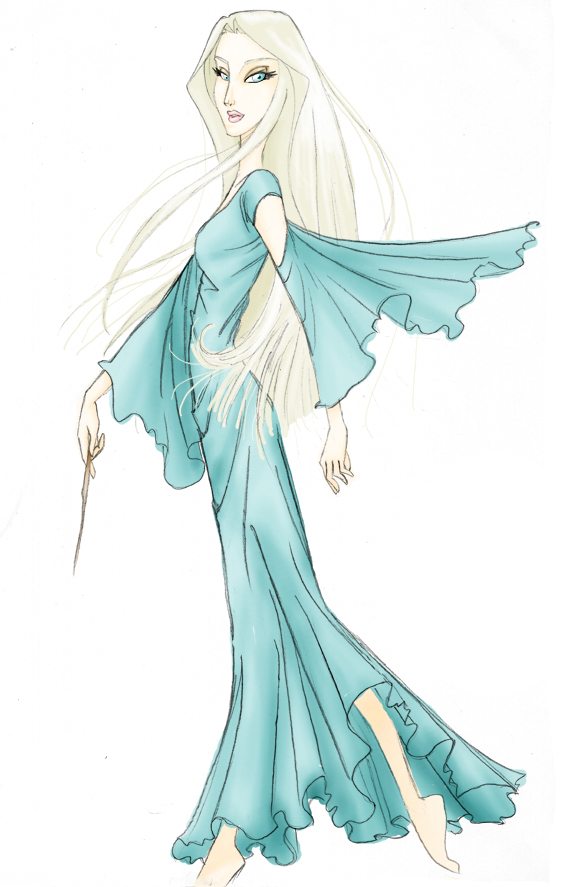 Boys (and grown men) find her extremely attractive, but girls — particularly Hermione and Ginny — are usually a bit less than taken with her. She is conscious of her beauty and her power over men; this is at least in part because of her Veela heritage.
Gringotts and the Burrow
Fleur took a part-time job at Gringotts in London (summer 1995) to improve her English. She dated Bill Weasley (OP4) for about a year before they became engaged during the summer of 1996.
When Harry came to stay with the Weasleys the summer of 1996, he discovered that Fleur was also visiting so she could get to know her future in-laws better. At first, the visit had mixed results: Ron was still dumbstruck around her, but her superciliousness grated on Molly and Ginny (HBP5). However, months later, when Bill was mauled by the werewolf Fenrir Greyback Fleur surprised everyone by standing by him and reaffirming that she wished to marry him "I am good-looking enough for both of us, I theenk!" (HBP29).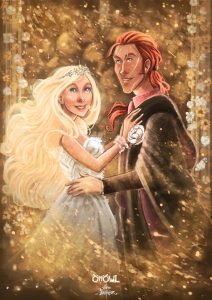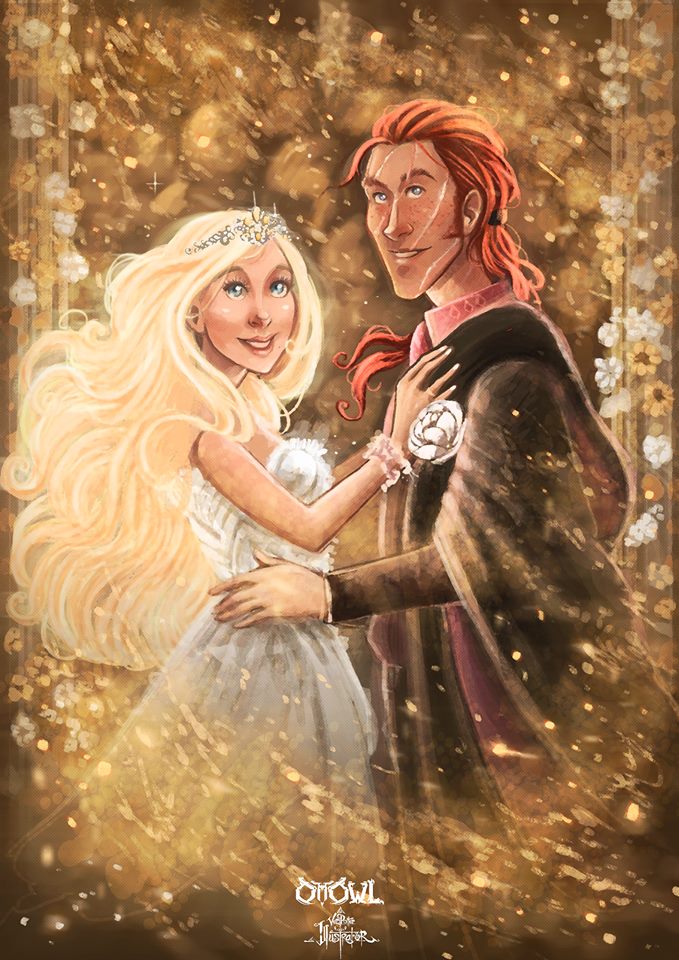 Shell Cottage
The wedding took place at the Burrow on August 1, 1997 (DH8), the same day that the Ministry of Magic fell to the Death Eaters. Bill and Fleur moved to Shell Cottage, where they harbored a number of fugitives and victims of the Death Eaters (DH25).
Fleur and her husband fought bravely in the Battle of Hogwarts. In the ensuing period of peace and rebuilding, Bill and Fleur had three children: Victoire (born on the anniversary of the battle), Dominique, and Louis (DH/e, YL).
Family
Grandparents: Her maternal grandmother was a Veela (GF18).
Father: Monsieur Delacour.
Mother: Apolline Delacour, a half-Veela witch.
Siblings: Gabrielle Delacour, a younger sister.
Spouse: Bill Weasley (DH8).
Children: Victoire, Dominique and Louis (DH/e, YL).
Skills
A very capable and talented witch
Fleur Isabelle Delacour
Other Names
'Phlegm' (Ginny Weasley, HBP5)
Hair
Long, silvery-blonde
Distinguishing Features
Veela ancestry, which means she is unusually beautiful
Wand
9½ inches, rosewood with a veela hair core, inflexible
School
Beauxbatons - Student
Commentary
Etymology
"Fleur Delacour" means "flower of the court," according to Rowling (AOL).
Pensieve (Comments)
Tags: beauty/beautiful blonde Fleur Remembrall half-breed pride